Funny Boy: The Richard Hunt Story, a work in progress, is the definitive biography of Muppet performer Richard Hunt, a general interest book for all audiences.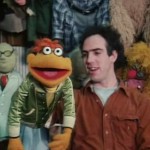 Richard Hunt joined the Muppets with his characteristic gregarious pluck, cold-calling them from a Manhattan pay phone on a whim one beautiful June afternoon in 1970. He was 19, a year out of his North Jersey high school. "Hi, I'm a puppeteer, can you use me?" he asked cheerily. He was in luck: Jim Henson's company was auditioning for a new production that very afternoon. Hunt ran over and landed the gig.
From these impulsive beginnings Richard Hunt launched a masterful two-decade career with the world's most popular puppet troupe: the Muppets. As part of the central core of performers on children's television blockbuster Sesame Street and adult megahit The Muppet Show – called "the most popular television entertainment on earth" by Time magazine – Hunt brought to life such puppet icons as put-upon lab assistant Beaker, elderly balcony heckler Statler and mellow valley girl Janice, as well as helping to develop the iconic Miss Piggy and Elmo.
A genius comic performer, Hunt was a "funny boy" in another respect as well – that being his lingo for gay – living it up in the liberatory post-Stonewall culture of New York in the 1970s, confronting the plague of AIDS as it decimated gay male circles in the 80s, and succumbing to AIDS-related causes in 1992, only 40 years old.
These two seemingly disparate scenes, both based in New York in the 1970s and 80s, share remarkably similar sensibilities of wild collaboration, free creative exploration and exuberant, spontaneous joy. This energy is best exemplified by Hunt himself: a compelling, generous, Pied Piper trickster who moved easily between worlds, befriending everyone from celebrities to cab drivers, and mentoring many performers, including Elmo's Kevin Clash. Hunt's life story gleefully problematizes the boundaries between work and play, performance and authenticity, and adult versus children's entertainment.
Hunt's family, friends and colleagues have generously supported the book, contributing extensive interviews and documents. In 2009, I published a 90-page chapbook biography, The Rainbow Connection: Richard Hunt, Gay Muppeteer, which became a runaway success, distributed throughout the US and as far away as Australia, Singapore and England. A 15-city cross-country tour drew crowds at bookstores, colleges and theaters, including a full house at New York's Dixon Place.
Funny Boy: The Richard Hunt Story is the definitive biography of a man whose expansive spirit shines through his work. Hunt's words eulogizing Jim Henson apply equally to himself: "He did not live for the moment. Instead, he lived in the moment." Though his work is iconic, Hunt himself is curiously invisible — and his story is long overdue.