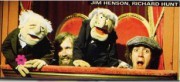 Today is the anniversary of Richard Hunt's death; in commemoration, I am releasing the introduction to his biography. I hope it helps to keep his memory alive.
Growing up in the 80s, the Muppets were part of the fabric of my life, literally – I slept on Kermit-print sheets. Watching them again as an adult I appreciated their "affectionate anarchy", the kind warmth beneath the gleeful chaos. The Muppets were at their best, arguably, in their classic era (1969-1990), a time that opens with their debut on Sesame Street, reaches its pinnacle with international powerhouse The Muppet Show, and closes with Jim Henson's death. All this was achieved by just a handful of core performers, working together as a team far greater than the sum of their parts.
Richard Hunt began this era as an eager apprentice at the right hand of the master; twenty years later he presided over Henson's memorial service, just a year and a half before his own death. In the interim, he was invaluable to the Muppets' phenomenal success, both as a brilliant performer and the company's gregarious social ambassador, mentoring legions and leaving a long legacy. Yet he yearned for an on-camera career, never settling, even trying his hand at directing. And he was determined to have a good time – even as time was running out. Hunt was only 40 when he died of AIDS-related complications. This is the detail that hooked me on telling his story. What kind of workhorse comedic genius could show up and be funny, day after day, while mourning his loved ones and fearing for his own life? But as Hunt saw it, how couldn't he?
~
Richard Hunt was born to perform, seemingly always "on", the loudest person in any room, a strong, beguiling personality ready to connect with everyone from the studio custodian to the celebrity guest. "He was to me instantly the most charismatic of all the Muppeteers," says actor Mark Hamill. "Richard embodied what you imagined Muppet puppeteers to be: unrestrained, irreverent humor. Like Carrie Fisher, he had an exuberance for life and to make every moment thrilling and exciting." His characters are cheeky even for the Muppets; whether wisecracking old men, masochistic lab assistants or stoned hippie girls, he loved to spice up scripts with ad-libbed zingers, equally at home puppeteering by hand, in a full-body costume or even via remote control.
Hunt's fairy tale rise to fame is an American Dream story born of stubbornness and desperation. The oldest son in a large poor family, he felt driven to provide from an early age, and to explore his potential as a performer. He bravely cold-called the Muppets at 18, joining the group in its early salad days, a heady atmosphere of sheer creativity. He jumped into his apprenticeship with the exultance of a bouncy puppy, leaping up the learning curve, mastering the craft, having the time of his life amongst these like-minded, hard-working mischief makers. Now his individual talent shone in fine collaboration. He rose within the Muppets as the group rose within the public eye; together they became a beloved international phenomenon.
By the time Hunt was 25, he and the Muppets were, literally, making "millions of people happy". The Muppet Show attracted a weekly audience of over 200 million people in 100+ countries, from affluent suburban streets with a TV flickering in each front window, to entire African villages gathered around a single set; Time magazine called it "the most popular television entertainment on earth". Sesame Street, too, had become an unprecedented global blockbuster, the standard by which the rest of children's television measured itself. Monetarily his cares were over, though he would have done the work for nothing. His mother remembers him opening a check and just laughing: "How can they give you so much money for something you love to do?"
But, in a sense, after Hunt's happily ever after is where his story really begins.
The Muppets began the 1980s ready to build on their success. As they expanded in new, even conflicting directions, Hunt stepped up to a senior role, auditioning and training performers on Fraggle Rock and Sesame Street and Muppet movies, even helming entire satellite projects while playing his usual versatile, hilarious roster of characters. From his work, you wouldn't know how AIDS swept through his circles, wiping out scores of acquaintances, picking off friends, and hitting him squarely home, taking his lover Nelson (whom he called "the most important person in my life"), and dangling a sword of Damocles over his own life. Ironically, the crisis only honed Hunt's personality. He already lived on his feet, heightening every instant; now he just amped it up. "He changed people's lives in that sense," says friend Jesper Haynes. "Just to be around him – this energy that was so up and so positive and so life-affirming, in the middle of all this death around." Hunt showed this attitude as the Master of Ceremonies at Henson's memorial service, eulogizing Henson in words that could describe himself: "Jim… did not live for the moment. Instead, he lived in the moment. Because that's all we really have."
Despite the odds and the obstacles, Hunt never lost sight of his commitment to his calling, his lifelong dream of making "millions of people happy" – a goal he fulfilled, literally, both on and off screen, creating a sanctuary of humor that continues to enrich lives the world over. It is my privilege to tell his story.
Sources
"Affectionate anarchy": How Frank Oz frequently describes the gestalt of the Muppets.
"He was to me instantly": Mark Hamill, interview with the author, 2017.
"Millions of people happy": Kermit's stated goal in The Muppet Movie, 1979.
"The most popular television entertainment," Time magazine, 1978.
"How can they give you," Jane Hunt, interview with the author, 2009.
"The most important person," Richard Hunt Archival Interview, Jim Henson Company Archives.
"He changed people's lives," Jesper Haynes, interview with the author, 2015.
"Jim… did not live," Jim Henson Memorial Service, 1990. Private footage.