Funny Boy: The Richard Hunt Biography is the life story of Muppet performer Richard Hunt.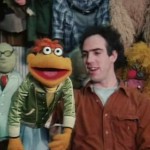 A born comedian, singer and entertainer, Richard Hunt enjoyed a masterful two-decade career with the world's most popular puppet troupe, starring as a main performer on children's television blockbuster Sesame Street and adult megahit The Muppet Show. He played a startlingly wide and wild variety of characters, embodying everyone from young gofers to mellow valley girls to wisecracking old men, using hand puppets, full-body costumes and remote-control technology to physically bring characters to life. Muppeteer Frank Oz calls him the "heart and soul of the irreverence of the Muppets"; his comic sensibility was integral to their phenomenal popularity. And he did it all while having a determinedly good time – even while time was running out.
I am established as Hunt's biographer, having conducted nearly 100 interviews with family members, colleagues such as Frank Oz and Brian Henson, and a variety of friends from different circles, in addition to accessing numerous archival materials such as Hunt's letters and a rare, lengthy interview with him. I have lectured on Hunt across the country, and my research on him has been cited in MSN TV News and the New York Times.
Funny Boy: The Richard Hunt Biography is a fitting biography of a man whose expansive spirit shines through his work. The book is lively and literary, scholarly and silly, elegant and edgy, a snapshot of a vibrant cultural moment, raising questions that remain controversial and relevant. Though his work is phenomenally famous, Hunt himself is curiously invisible – and his story is long overdue.
Book excerpts available on my Patreon page — which is being unveiled on August 17, what would have been Hunt's 70th birthday!
Enjoy!