Last Thursday evening I had the pleasure of attending the opening reception for the new Jim Henson's Fantastic World exhibit at the Museum of the Moving Image in Queens.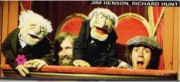 And I'll be commemorating what would have been Hunt's 60th birthday with a public event later this month!
The LGBT community was well-represented at the Moving Image event, with local City Councilman Jimmy Van Bramer citing Henson-as-Kermit's version of "The Rainbow Connection" as helping him come to terms with being gay, and guests including out puppeteer John Tartaglia (of "Avenue Q" and "Imaginocean"). Mayor Bloomberg also made a special appearance – in puppet form – performed by longtime Muppeteer Dave Goelz, perhaps better known as purple, big-nosed "whatever" the Great Gonzo.
The exhibit has a lively selection of Henson's early drawings, TV commercials and experimental films, as well as artifacts from his more well-known work such as Sesame Street and The Muppets Take Manhattan, including Miss Piggy in full wedding finery. I would have enjoyed more attention to the collaborative aspects of Henson's work, beyond his puppet partnership with Frank Oz. The show runs through January.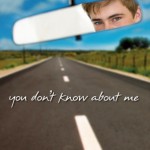 Speaking of rainbow connections, former Muppeteer Brian Meehl recently released a charming, quirky LGBT-themed young adult novel, You Don't Know About Me.
The rollicking, road-tripping homage to Huck Finn features Billy Allbright, a born-again Christian who "puts the freak in Jesus freak," geocaching across America in search of his long-lost father. His companions along the way include his fundamentalist mother, who claims Tickle-Me-Elmo dolls "introduce kids to the sin of 'unrestrained pleasure'"; Ruah Branch, a closeted baseball star on the lam; and two tricky hipsters who drag him to an Oregon Burning Man offshoot.
Though the book's tone is deceptively breezy, with quick quips and inventive slang, its portraiture is nicely nuanced; Allbright is relatable even when not very likeable, and Branch shows far more complexity than his Huck Finn counterpart of "sho-nuff" sidekick Jim.
"You Don't Know About Me" is dedicated to the memory of Richard Hunt, who makes a kind of cameo as Jerome Silks, Branch's "first real boyfriend," who died of AIDS. He shows Allbright a picture: "It was of a white guy with dark wavy hair and a friendly face. What made him look extra friendly, and maybe funny, too, was a gap between his front teeth." This hidden reference made me happy.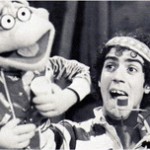 Finally, I'll be commemorating what would have been Richard Hunt's 60th birthday on August 16th at Bluestockings Bookstore on Manhattan's Lower East Side. Come join us for a sneak peek at my biography-in-progress, "The Rainbow Connection: The Life and Times of Richard Hunt," as well as plenty of Muppet clips and rare behind-the-scenes footage. Looks like there's more than one way to make a rainbow connection. The lovers, the dreamers… and maybe you!