Today would have been Richard Hunt's 61st birthday, and as a treat I'm sharing his rare in-person Sesame Street cameo, aired November 1981 in episode 1576.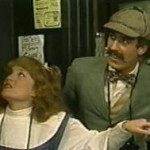 In 1981, the 30-year-old Hunt had been with The Muppets for a decade. Jerry Nelson, also known as The Count, says that in the early years, "Richard was like a puppy, bouncy and overeager. We had to sit on him a lot." We see Hunt's irrepressible glee in this clip, where he and Madeline Kahn play a hilarious pair of bird-brained birdwatchers.
Yet Hunt also had a serious side. Says Brian Meehl, the original Elmo, "Richard was a news addict. He read the paper. He was very tapped in to what was going on. One time I saw him just devastated was when Anwar Sadat got killed." Sadat, awarded the Nobel Peace Prize for creating the 1979 Egyptian–Israeli Peace Treaty with Israeli leader Menachem Begin, was assassinated in October 1981, shortly before this episode aired.
Most people didn't see Hunt's pensive, political side. "Richard on the set was fantastic," remembers Meehl. "He was always keeping people's spirits up, and yelling stuff. You'd do a take and he'd go, 'I wept!' And he would always show up with a box of Entenmann's chocolate doughnuts. For everyone, of course."
Hunt would perform with the Muppets for another decade before dying of AIDS at 40 in 1992.