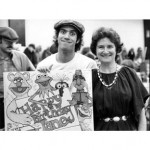 Writing is solitary, so it's easy to forget that an audience is out there waiting for the book – until you get a wonderfully encouraging email from a complete stranger! Thanks to Julia Kosier of Wisconsin for this wonderful message.
I just read Queen Elizabeth's Purse and I just wanted to tell you how much I adored it! Getting a behind-the-scenes look at the biography was exciting, of course, but what I really fell in love with were your writing style and your observations on London. You have such a wonderful way with words, and I found myself relating to a lot of your thoughts, though I've never actually been to London. The zine really left me wishing I could go on a trip overseas – and this is coming from someone who typically frets about travelling to the other side of the state.
Plus, I have to love anyone who can talk about Richard Hunt and the Sex Pistols in the same sentence.
Thanks Julia! Your check is in the mail!
Photo of Richard Hunt and Jane Henson from http://henson.com/jane.html.